Farmer Not So John, Receiver
Compass #7-4250-2. 10 Tracks, 47:33. Category: Country Rock/Alternative Country. Released 1998. Widely available.

---
Nashville roots rockers, Farmer Not So John, return with their second release on Compass Records. This time out of the chute, they're much more countrified than on their eponymous first disc. They've also gone to promoting Mack Linebaugh and Richard McLaurin as a duo, consigning Brian Ray and Sean Keith to back-seat positions (although they appear on the credits for this album). According to the Compass web site, Keith left to become a father and Ray left for artistic reasons. Ray was a frequent contributor to the writing on the first album and even shares writing credit with Linebaugh and McLaurin on "Me Too" on this disc and takes full-credit for "Consigned to Oblivion" here.
First track on the new disc is "Paperthin," an outstanding song that many listeners will recognize if they had a chance to see FNSJ perform last Fall. It sounds a bit less rockin' than I recall from last year, but I think FNSJ's live performances always tend to be a bit on the rocking side, especially when paired with another more rock-oriented band for the bill.
Also familiar to those who caught the band on their last tour will be "For You I Will Pretend," a slow moving song that truly makes fine use of Linebaugh's quirky voice--a plaintive song that in many ways exhibits the best of what alt-country is about: outstanding musicianship with lyrics that go beyond the usual country clichés. The lyrics here and on many of Farmer Not So John's songs are enigmatic as any you'll find in the pop world, borrowing stylistically from the likes of Neil Young and Tom Waits (among many others, I'm sure). "For You I Will Pretend" features McLaurin's solid lap steel playing that earned him a place in Iris DeMent's band.
"Consigned to Oblivion" is an upbeat, rockin' little song. It has everything a pop/rock song should but with added twangy guitar here and there as well as Linebaugh's unique voice (backed by Ray). Its fast pace provides a nice counter to "I Will Pretend" and "Rise Above The Wreckage."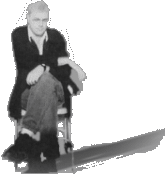 Vocally, one of the most intriguing songs is "Rise Above The Wreckage." Mack takes the tone down an bit, and combined with peculiar sounds of the washboard, towel, and aerosol can (at least this is the way it's credited), makes for a throbbing, strangely haunting piece.
"Undertow" starts off with a few licks that sound stolen straight from Don Williams. What makes it great, however, is it's memorable chorus and electric guitar, giving it a nice "pop" feel while maintaining its country roots. Of the new songs on this disc, this is perhaps my favorite. (Note the "home town" imagery which was so audible in some songs on the first release.)
The fiddle and the banjo are typical of the sounds that make "Pen Across The Page" one of the more countrified songs on Receiver. But this is no country song lyrics-wise: "with another cup of coffee gone/i brooded for a while/diluted my denial with Edgar Allen Poe." It is perhaps one of the slower songs on Receiver that would fit most appropriately on the first album, sound-wise.
At first, my reaction was that Receiver wasn't as good as Farmer Not So John (the first album), but after listening to it for a while, I am not so sure of that assessment. It is certainly different than the first, but I'm no longer sure it isn't as good. They're both quite enjoyable for slightly different reasons. For folks who haven't heard FNSJ on disc, I heartily recommend starting with the first album if you can find it. Most large independent record stores should carry this (I found my copy at Waterloo in Austin), but check out the compass web site at http://www.compassrecords.com, if you need more help.
---
[Back] to Carl's Review page.
This page is copyright © 1998 Leslie Carl Seiler. All rights reserved. Reviewed 8 July 1998. Updated 29 January 1999.